Pregnancy Announcement on Facebook
One way to let your friends and family know that you are stylishly expecting a baby is to announce this good news on Facebook with selected Facebook pregnancy status on this post. You are sure going to feel happier with congratulatory messages and comments on your pregnancy status. What are you waiting for? It's high time you grabbed those beautiful posts.
How to Announce Pregnancy on Facebook Status
Congratulations, we understand the how it feels to conceive. You just got the news from your Doctor that you are pregnant and you can't keep this to yourself alone, sharing the good news with your friends on social media isn't a bad idea at all. So how do you go about sharing the news with friends. This can be done by posting it on your status, the post should not be a straightforward message. You just need to be creative about it in a manner that the reader will understand the context.
Here, we have lots of pregnancy announcement ideas for facebook to provide you with lots of options to choose from. When you've made up your mind, all you need to do is to click on it, and you'd be happy with congratulatory comments you will get from your friends
Let's ride!
Pregnancy Announcement Ideas for Facebook
The delivery of a child truly brings us into the essence of living and creation where the body is a miracle of wisdom, and the human spirit is bold and courageous.
Sincerely, I must say that being pregnant is already having some changes in my personality. Each day that comes makes an amazing part of this journey that has succeeded in shifting the focus of my life completely and has pushed me into reevaluating my professional goals and my personal life.
The joy of any mother begins with she feels a string of life inside her. From the very first time she hears a tiny heartbeat inside her and those playful kick which reminds her that she isn't alone.
When you mention pregnancy, you talk about two persons; one found in the other; two beings covered in the same skin. It makes me realize that this solid tandem is an uncanny fact when so much of life is dedicated to maintaining our integrity as distinct beings.
Like bits of stardust blown from the hand of the creator, so are babies. Any woman who knows the pangs of birth is quite lucky. She knows she has held a star. So amazing.
The true definition of pregnancy is to be distressingly inhabited, thoroughly woman and to be vitally alive. Along with the body, the spirit and the soul are stretched making pregnancy a time of profound beginnings, growth and time of transition.
It feels like giving birth to new possibilities within ourselves when we give birth to our babies. I have a great person inside.
Like two blossoms of a single branch, the life of a mother and child is one.
The condition, Pregnancy is one that makes you puke when you cough and makes you pee when you laugh.
It is momentous when making the decision to have a baby. It is a long-term and forever decision to have your heart go walking all over outside your body.
Also Read >>> How to Announce New Born Baby on Facebook
Social Media Pregnancy Announcement Wording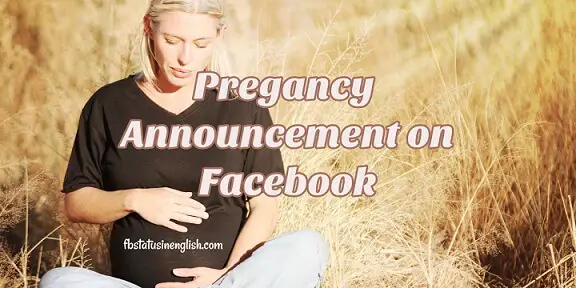 You know facebook is not the only existing social media, we have twitter, Instagram, reddit and lots of them. Whatsapp can also be classified as a social messaging platform. Whether it is your first pregnancy, second or the third conception, you can pick any of the examples listed on the page and share with your friends or followers on any of the social media platforms you use most.
The advent of a baby is sure to make the past forgotten and the future worth living for, clothes shabbier, home happier, bankroll smaller, nights longer, days shorter, and most of all, LOVE stronger!
The mother is also born the moment a child is born. She never existed before now; she was only a woman. This tells how new a mother is with the birth of a child.
Before you were born, I carried you under my heart. From the moment you arrived in this world until the moment I leave it, I will always carry you in my heart.
I am already falling in love with the child I am yet to meet.
The most profound initiation to spirituality a woman can actually have is giving birth.
I can feel it, that someone special is coming right into my life.
Pregnancy can be defined as getting a companion right inside one's skin.
This is it! A grand adventure is about to begin
I am already in love with the child I am yet to have. I can't wait.
Just because I'm pregnant, I finally quit dieting.
I am about to go through a great adventure in my life.
Like a pregnant 16 years old misses her period, I miss you so dearly.
Also Read >>> New Born Baby Status for Facebook
Pregnancy Status for Whatsapp
Expecting a selfie with my baby soon.
A baby child actually occupies a place your heart you never knew was empty all these years.
I have my husband looking for perfect baby names.
I'm glad to announce that I'm a mother to be.
I'm very busy learning lullabies for my little one.
I'm earnestly waiting for my little child's arrival. I can't really wait to give the first kiss.
It's high time we made pregnancy an occasion when we need to appreciate our female bodies.
I think I'm busy growing a person inside of me. Don't know about you!
I posted a photo of a bun in an oven to show that we were going to be parents. That's really cool.
It was shocking to everyone when I had a picture of the positive pregnancy test on Facebook with a smiley face.
When you don't have anyone kick you right from the inside, life could be tough.
I think she is my friend, so I can ask him later what made it all sound recording, a child
I carried you under my heart even before you were born. I will always carry you in my heart from the moment you arrived in this world until the moment I leave it.
I think I'm really in love with the little one I haven't even met
Success is more like being pregnant. Nobody knows what you actually went through before you got there, but everybody congratulates you.
You can imagine the joy and happiness that thrives in Families with Babies
I think this is the perfect time to share this great news that we will be expecting our first child together.
Also Read >>> Ways to Announce Daughter's Birth on Facebook
Funny Pregnancy Announcement Ideas
Pregnancy is simply a sickness that takes you nine months to recover from.
You are not allowed to touch my belly unless you are the one who put this baby in here or the one who will take it out.
When you talk of bringing a child into this world, there is a sanctity involved it is better than bombing one out of it.
I have a friend who has a baby. I keep recording all the noises I hear her make so I can later ask him what he meant.
The worst feature of a new baby is its mothers singing.
If pregnancy were a book, the last two chapters would be cut off
I wonder what people keep saying about sleeping like a baby. They usually don't have one.
Families with babies and families without babies are sorry for each other.
Abortion would definitely be a sacrament if men could get pregnant.
I think the perfect definition of a period is the beginning of a lifelong sentence.
Before you were here an hour, I would die for you. Before you were born, I loved you. Before you were conceived, I wanted you. This is the miracle of Mother's Love.
No language can ever express the heroism, the beauty and the power of a mother's love for her child.
While feeling fat lasts just nine months, the joy of becoming a mother is one that would last forever.
I think pregnancy service stripes are those stretch marks seem on a mother's skin.
Fun Ways to Announce Pregnancy to Parents
My husband is busy looking up baby names.
A baby is quite a unique creature. One you carry inside of you for at least 9 months, one you carry in your arms for three good years and one you will keep in your heart till the day you die.
I am really cooking bun with my husband.
Use a poem: We have a little Valentine, although it's still brand new. You'll meet our little Valentine; It's going to come this August as soon as we are due.
I am going to increase my reproductive success to one.
During this whole period, my wife will be eating not just for herself but for two.
It quite appears that Lynda already has two heartbeats. The one inside.
Wow! Soon, Remz is going to be a baby mama
Are you in the final stretch and are you starting to figure the best and perfect way to announce the birth of your loved ones? Here are some ideas you can actually personalize and use on Facebook, Instagram as well as other social platforms.
These pregnancy Facebook announcement are perfect methods to express yourself indirectly passing this good news to your loved ones. Don't stress your brain and time trying to cook up the best lines for your new arrival. We've got all the options to do just that. Enjoy!