100+ Quotes About Missing Someone in Heaven
The pain of losing a loved one, friend, or colleague is indescribable. Sometimes, the pain worsens when you have many things you want to say but cannot do so. Likewise, writing those messages online or on print is not the easiest thing to do, so we made a collection of quotes about missing someone in heaven that you can easily use.
Quotes About Missing Someone in Heaven
Even after a few years, the longing is still there, and sometimes it feels like you are missing your other half. For their anniversary, visit them, bring those beautiful flowers, and celebrate someone's life with the most heart-touching status on your social media account.
Writing missing someone who died quotes is not that easy. People who just lost their loved ones may find it hard to write for them. With the list of quotes below, you can simply copy the messages below or add a personal touch by editing the lines.
Missing Friend Quotes
Friends have been with us through thick and thin, especially when we live far from home. Some of us have been friends during our early years, and we still keep in touch. When someone who has been friends with us for a long time dies, it is one of the events that hurt you the most. 
Whether you are sending flowers or showing your love to your friend online, writing quotes for missing friends can be challenging. So take time picking and editing the quotes below every time you need missing my best friend in heaven quotes. 
Don't Miss Out >>> Everything Happens for Some Reasons Quotes
Life can be the same after a trinket has been lost, but never after the loss of a treasure.
You had the most angelic soul, and I'm sure you are now right where you belong, heaven.
You never said goodbye, but only God knows why.
On the death of a friend, we should consider that the fates through confidence have devolved on us the task of a double living, that we have henceforth to fulfil the promise of our friend's life also, in our own, to the world. – Henry David Thoreau
Your laugh was like music to my ears. Indeed I have lost a gem.
Thanks for being everything you were. You are greatly missed.
There is no greater sorrow than to recall happiness in times of misery. – Dante
A great soul serves everyone all the time. A great soul never dies. It brings us together again and again. – Maya Angelou
If only you knew how much happiness you brought into my life, you would have stayed.
You were very kind and thoughtful. I'm sure you'll find your place in Heaven.
When I get to Heaven, the first thing I intend to do is find you.
I miss your smile, your laugh, and your jokes. They are all gone now.
Quotes About Missing a Lover
It is not easy writing when you are missing someone you love. Whether it is a lover, your husband, or your wife, you can easily find prewritten quotes that you can use for a card in your flowers or social media post. You can write poems about missing someone or simply write short lines that tell your loved ones how much you miss them.
Writing songs about missing someone you love is another way to write a dedication message about remembering them. But quotes for missing loved ones might be a little bit easier. You can use the most beautiful quotes about missing a boyfriend, girlfriend, or any partner from the collection below to complete your message online or through print. 
Trending >>> Appealing Love Status on Facebook
Now that you are gone, grief and love mean one and the same thing to me.
One minute you were here, and the next minute you weren't. I miss you, angel.
You were my heaven on earth. I miss you.
Love doesn't die with death. Love is like liquid; when it pours out, it seeps into others' lives. Love changes form and shape. Love gets into everything. Death doesn't conquer all; love does. Love wins every single time. – Kate O'Neill
Your absence has gone through me Like thread through a needle Everything I do stitch with its colour.
When I miss you, I simply look inside my heart because I know I will always find you there.
Without you, minutes feel like hours and days pass by like seconds. How much longer till I see you again?
The reason it hurts so much to separate is that our souls are connected.
My thoughts are forever with you. Your place no one can take.
If love alone could save you, you never would have died.
There has yet to be a day in which you aren't the very centre of my thoughts. I miss you greatly.
As you went toward the light, you took my heart along with you.
If I had a flower for every time I thought of you, I could walk in my garden forever. – Alfred Lord Tennyson
 As long as I live, I will carry you safely tucked in my heart.
I send my love to you in Heaven every single day.
 If there ever comes a day when we can't be together, keep me in your heart, I'll stay there forever. – A.A. Milne
My heart has followed you all the way up to Heaven.
The days just don't seem right without you. I miss you.
I hope that the winds of heaven whisper softly in your ear how much I love and miss you.
A day without you is like a day without sunshine. I miss you dearly.
I love you every day. And now I will miss you every day. – Mitch Albom
When I wake up to an empty bedside in the morning, the pain of your demise comes afresh.
 You may be out of my sight but never out of my heart.
Without you, I find myself completely lost.
I spent today missing you. The same way I'm spending tomorrow and every other day after that.
Time goes a lot slower when you miss the one you love.
Ever since I lost you, there are days I feel too weak to participate in life.
I keep myself busy with the things I do, but I pause every minute, just to think of you.
Time won't bring you back and time won't let me forget you.
I think of you in silence and I often speak your name. I miss you beyond words and I miss your pretty face.
And tonight, I will fall asleep with you in my heart. I miss you to bits.
Your smile brightened up the darkest day And the cloudiest sky.
No matter where I go, you are always in my thoughts.
The world would be like heaven if I had you back again
If tears could bring you back, you'd be sitting right here with me.
Life and death hold mysteries, one thing is for sure- I will always love you.
It will take an entire lifetime to forget the day I lost you, rest on angelic being.
Though I cannot see or touch you anymore, I know you are near.
It broke my heart to lose you, the day death took you.
A million words could not bring you back, I know this because I tried.
In life, I loved you dearly. In death, I love you still.
Since your demise, I feel a sadness in my heart that just will not go away.
I wish I could see you one more time
Missing my Family Quotes
They say no one can replace your mother, father, or siblings. When they die, it leaves a hole in the remaining member of the family's hearts. On their anniversary, say how much you love them through a quote about missing family members, or specifically about missing my mom in heaven or missing my dad in heaven.
Are you missing them big time? We want to express our love for them through personalized messages or quotes about missing family members. But if it is still difficult for you, you can use the sample quotes below. When you are missing all my family and friends in heaven, these samples will let everyone know your struggles and love for them.
Also Read >>> Soothing Status for WhatsApp in English
I miss you more than words can express, but it would be selfish of me to disturb your heavenly rest.
I don't see my father's death as an absence, rather as a different existence. – Anoir Ou-Chad
As much as I want you back. I know Heaven needs you more.
I cannot wait to be reunited with you in Heaven, someday.
I still love Granny. It flowed out of my chest. With Granny gone, where would my love go? – Jessica Maria
Lucky is the spouse who dies first, who never has to know what survivors endure. – Sue Grafton
Dear Father, these tears I shed today are because I miss you so much.
Words alone are barely enough to say how missed you are.
On your birthday in Heaven above, I send my blessings on the wings of a dove.
You are gone from me now, but the memories we share reside inside my heart.
Take your light to heaven, you left enough down here.
If the people we love are stolen from us, the way to have them live on is to never stop loving them. – James O'Barr
The bravest thing I've ever done is let go as the angels carried you up to Heaven.
 The day I lost you, I also lost myself. Rest on, angel.
We shall find peace. We shall hear angels, we shall see the sky sparkling with diamonds. – Anton Chekhov
Never. We never lose our loved ones. They accompany us; they don't disappear from our lives. We are merely in different rooms. – Paulo Coelho
It gives me comfort knowing you are safe in Heaven. Rest on, sweet one.
God eased your pain but broke my heart. I miss you, angel.
 I wish I could climb up to Heaven to give you a hug.
I wonder if my first breath was as soul-stirring to my mother as her last breath was to me. – Lisa Goich-Andreadis
Those dear to our hearts never go away, they walk beside us every single day.
Your golden heart has stopped beating and your hardworking hands are now at rest.
I waited so long for you. I didn't know I had to give you back.
 Mother was comforted. Mother was home. A girl who lost her mother was suddenly a tiny boat on an angry ocean. Some boats eventually floated ashore. And some boats, like me, seemed to float farther and farther from land. – Ruta Sepetys
It is your birthday today and I miss you, even more, angel.
I am so blessed to have the best guardian angel there is.
The Lord gives a good many things twice over, but he doesn't give ye a mother but once. -Harriet Beecher Stowe
Farewell, until we meet again my precious angel.
Status About Missing Someone
Are you worried about social media word count? Whether Facebook or Instagram, you can honour your loved ones in heaven with a short and heartwarming message from the samples below. Some examples come from amazing authors who have expressed how death affects the living in different ways.
Even though years have passed, they still leave a small hole we try to carry every day with us. So feel free to express your pain, longing, and thankfulness for their brief appearance in your life's story. The samples are also suitable for cards, text messages, and more.
Your wings were prepared for this, but my heart was not.
I miss you dearly, but I know you are in a better place now.
I wish Heaven had visiting hours so that I could see you again.
These days, I look up at the sky, hoping to see you.
The moment you took your last breath, all I felt was pain.
I have come to the realization that nothing in life prepares us for losing someone we love.
Sometimes the water is calm, sometimes it is overwhelming. All we can do is learn to swim.
I will miss you forever.
Missing someone enlightens how the person means to you and broadens the feelings shared.
 The arms of death are really cold, but your soul is warm enough to see you through.
 You are gone, but you will never be forgotten.
I cried when you passed away. I still cry today.
I miss you from sunrise to sunset.
Though life goes on without you, surely, it will never be the same.
To lose you was a bitter wrench, the pain cut to my core.
Gates of memories will never close, how much I miss you, no one knows.
They say time heals all wounds, I find that to be far from true.
Just like the stars miss the sun in the morning skies, I will miss you immensely.
Grief is like the ocean; it comes in waves, ebbing and flowing.
Goodbye, to me, is not the saddest word, it is the hardest word.
When the thought of something brings you to tears, at that moment, you know you love that thing.
After all, to the well-organized mind, death is but the next great adventure. – Albus Dumbledore
It is true we do not know what we have got until it is gone.
I miss you today, I will miss you tomorrow and even the day after.
Every parting is a form of death as every reunion is a type of heaven.
You are the whisper of the leaves as I walk down the street. You are my breath in the air on a cold winter's day.
Sad Missing You Quotes
The early months and years could be difficult for someone who lost their loved ones. It is not an easy journey for everyone, and sometimes, all they need is to say their longing through written words. But it is not easy to write your sorrows and missing loved ones quotes to your beloved person. 
With the sad quotes about missing someone, you can simply pick a quote you want to write online or on your flower bouquet card. You can simply choose quotes on missing someone from a famous author or edit them when you are missing someone in heaven.  
Tears fill my eyes and my heart is sorrowful. You are gone and the universe has won.
Nothing seems the same anymore and life has been such a huge battle since your demise.
The one thing that changed when you left is everything.
Your absence makes the whole world seem empty. No words can explain the sadness in the depths of my soul. For as long as the world keeps spinning, I will miss you.
Missing someone in Heaven is a completely different kind of pain.
As the pain of grief softens, I still miss you.
Deep down inside we always seek our departed loved ones. – Munia Khan
You left a void that depletes my heart and soul.
 When I close my eyes I see you; When I open my eyes I miss you. 
Daily, my tears run deep and wild. I miss you.
You can't truly heal from a loss until you allow yourself to really feel the loss. – Mandy Hale
Missing someone and not being able to see them is the worst feeling ever.
The sorrow we feel when we lose a loved one is the price we pay to have had them in our lives. – Rob Liano
Tonight you lie in a box, not in my arms. I miss you.
I have become a member of the largest company in the world, the company of those who have known pain.
Sadly enough, the most painful goodbyes are the ones that are left unsaid and never explained. – Jonathan Harnisch
We never truly get over a loss, but we can move forward and evolve from it. – Elizabeth Berrien
Death leaves a heartache no one can heal, love leaves a memory no one can steal.
Absence from whom we love is worse than death and frustrates hope more severer than despair.
Quotes About Grief
Final thoughts
When a loved one dies, the pain and longingness remain. Some may find it easy to carry on with their lives after a few days, but for others, it takes years to put themselves back on the right path in their careers and other relationships. With the quotes about missing someone in heaven, you can celebrate their lives online or through a printed letter. But before our loved ones leave us behind, tell them how much you love them through quotes about missing someone special.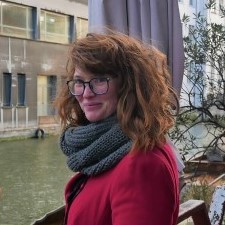 Hi! I'm Babs and I am a content writer. I love how you can choose to reach a big public with social media or limit your interactions to only your closest family and friends.