150+ Funny Introductions About Yourself Online
Are you building a social media account for your business or just simply for personal reasons? You would want users and friends to follow and check out your account for the latest updates! Instead of posting memes every day, how about impressing them with funny introductions about yourself online? 
But writing the wittiest About Me on your accounts on Facebook and Instagram bios can be challenging. You have to think about the character count, spacing, quote, and description that will light up anyone's day as any good news can do.  
Writing Funny Introductions about Yourself Online?
Every person, business, or life motto is different. Simply using cute symbols, creative font styles, and famous quotes may not be enough to showcase your personality appealingly. Also, learning how to give introduction online can be quite tricky. To help you get on your creative side, find out the quirkiest example of introduction of yourself below.
Make people online start their day with a good laugh with short introductions funny enough to make anyone smile when they open your bio. You can also let people know of your hilarious personality by funny be yourself quotes. Another way is to go for feel-good statements or bold descriptions that pique anyone's interest on your Facebook, Instagram, and dating app accounts. There are hundreds of quotes and lines with funny ways to describe yourself below that you can copy and paste or edit instantly! 
Short Funny Introductions
Are you worried about the word count, spacing, or character count? If you want to use one introduction to yourself example to all of your personal and business social media accounts, use a one line introduction instead! The longest introduction examples about yourself only has 65 characters. Pick one or add a unique flair by adding a few descriptions to fill the maximum count.
1. I can resist anything but temptation.
2. I always make shoe contact before eye contact.
3. I don't like to follow. I like to be the boss.
4. Life is too short. Don't waste it reading my Facebook profile 
5. WARNING: I have the witts and skills to make you laugh, and I know how to use them!
6. Heard a lot about me? Oh well. Don't worry. It can't all be true.
7. I think I'm good enough to be my hero.
8. Normal is overrated, weird is good, so I am weird.
9. Here I am, the peanut butter you have longed for.
10. I have this disease called Awesome. Kiss me; I'm contagious!
11. I never mind what I speak. 
12. Round's a shape. So I think I'm in shape.
13. I'm merely on energy-saving mode. Don't say I'm lazy.
14. My life is like a joke, so I'm naturally funny.
15. I am the only one who gets my jokes. I'm so hilarious
Get Ideas >>> Best Bio Examples for Facebook
16. I wish I had a friend like me because I'm so awesome.
17. I am one perfect person to be your favorite hello.
18. Who am I? That's a secret.
19. Not everyone likes me, but not everyone matters.
20. Sometimes, it takes me all day to get nothing done.
21. This is who I am. Nobody said you had to like it.
22. I'm only lazy when someone steals my motivation.
23. I receive fan mail, yet I'm a private citizen.
24. I frolic, I dodge, I weave, I balance, and my bills are all paid.
25. I participate in full-contact origami on weekends to steam off.
26. What I am looking for is a blessing, not in disguise.
27. Are you looking for awesomeness? Look here. Not there.
28. Do you want to know me? Come closer so I can whisper my attitude.
29. God is creative, I mean… just look at me.
30. Be courageous. I don't bite.
31. I smile a lot, and you'll never understand.
32. Even if I came with instructions, you can't handle me.
33. Nobody is perfect, I am nobody, and therefore I am perfect.
34. I am athletic; I can surf the web for hours.
Funny Quotes About Yourself
Have you ever started a conversation with a fun fact or a joke as an ice breaker? Make a good impression on your social media introduction with a funny way to introduce yourself. But writing one from scratch can be intimidating since you have to consider the words you use. 
With the following lines, all you have to do is pick one that best describes yourself or closest to your preferred humor. Most of the samples are long enough for most social media platforms. You can also make minor edits to make an introduction about yourself sample!
1. The only person I would like to know thoroughly in the world is me.
2. Just burned 2,000 calories. That's the last time I leave brownies in the oven while I nap.
3. I want to do it all or absolutely nothing at all.
4. I'm only single because I'm too fantastic for everyone right now.
5. Welcome to my Facebook feed, where people come to enjoy my memes and photos.
6. I discovered the meaning of life years ago but forgot to write it down.
7. I do nothing every day, but people keep saying nothing is impossible.
8. I give my friends admirable advice sometimes, but I'm not sure I'm capable of taking them.
9. My decision-making skills resemble a squirrel crossing the streets.
10. I don't want blessings in disguise. I may not identify them.
Also Read >>> Best Facebook Status in English
11. I don't think the laws of physics apply to me because I am unique.
12. I always feel this particular excitement of wanting to go back to sleep each time I wake up in the morning.
13. I'm just getting my belly filled up with food while everyone I know is either getting married or getting a boyfriend.
14. I just wish my mouth had some pause button sometimes. I'm such a chatterbox. 
15. I am so cool to the extent that even ice cubes become jealous of me.
16. I am so hot that I wonder if I contribute to global warming.
17. Studying gets me so sleepy, but I always end up browsing on Facebook (or any other social media app) for hours.
18. I once single-handedly defended a small village in the Amazon Basin from a horde of ferocious army ants using only a hoe and a large glass of water.
19. I am gifted with the knowledge of the exact location of every food item in the supermarket. Shop with me!
20. Using only a mouli and a toaster oven, I have made an extraordinary four-course meal.
21. I build large suspension bridges in my yard when I feel bored.
22. I have performed open-heart surgery, played Hamlet, and spoken with Elvis.
Creative Introduction of Yourself Examples
Are you proud of your achievements? How about your skills? If only you could turn them into exciting introductions on your social media pages, you could draw in target customers or followers. But stating your achievements may not be enough to get new or current followers to view your online pages.
Pick among the list of funny self-descriptions and show your milestones or personality with a hint of hilarious words. The samples vary from bold and short lines to longer and inspiring. Find the right one for you!
1. I'm pretty good enough as an artist to have my imaginations wholly drawn.
2. I am not exceptionally gifted, nor am I incredibly bright. I think I'm only inquisitive.
3. I know how to govern myself, so I think I'm good to be a queen.
4. I never forget to keep my heels and standards high.
5. We've all heard that the early bird catches the worm. Well, how about the early investor sees the glory first.
6. I speak my mind.
7. The only person I'm afraid of is myself.
8. I'm always calm and silent, like the currency notes and not the coins that always make a sound.
9. I'm the person who has the headphones on and the phone in my hands.
10. I am the kind of person who will burst into laughter over an event that happened the previous day.
11. I like to reinvent myself.
12. When I'm wrong, I'm the worst. When I'm good, I'm the best.
13. My success is just postponed for some time. I have not failed yet.
14. I'm not a greedy person. I enjoy the little things in life.
15. I can pilot bicycles up severe inclines with unflagging speed.
16. I can cook Thirty-Minute Brownies in twenty minutes
17. With my godlike and sensuous trombone playing, I can woo anyone.
18. I am an outlaw in Peru, a veteran in love, and an expert in stucco.
19. I am a ruthless bookie, a concrete analyst, and an abstract artist.
20. I'm something coming out of nothing and heading to greater heights.
21. I started out of nothing, just like great men, and I'm heading towards a fantastic future.
22. Though I may not be the best, I work hard to be the one. 
23. I am me and no other's second option. You either accept me or lose me.
24. I'm a good person. Though I may not be rich and famous, look beyond that. I think that's all that matters.
25. I'm always happy and achieve good results when I am myself.
Funny Opening Lines Online Dating
Do you want to attract single people looking for someone like you? Sometimes, taking the dating game on your Facebook and Instagram may be challenging. So if you are genuinely looking for a person and want to know their dating style, head to dating apps. 
To find the perfect match, it is all in the introduction. Some dating apps would let you write an entire paragraph, while others only allow you a few words. You swipe left and right whenever you like to dislike the introduction, and so do other users. Make sure you appeal to the right person when using one of the sample dating app intros below. 
1. You must be a great thief because you stole my heart from across the room.
2. I'm hoping you find my awkwardness cute rather than weird.
3. You must have been a Girl Scout because you've got my heart tied in knots.
4. Aren't you tired from constantly running through my dreams?
5. Why can't I find someone who looks at me the way I look at coffee?
6. I think you're a Pokemon trainer because you just Weedle-d your way into my heart.
7. I need a map because I keep getting lost in your eyes.
8. I noticed you were staring at me. I'll let you have a minute to catch your breath.
9. I was supposed to go on a double date with my BFF and her boyfriend, but my date bailed out. Want to be my date instead?
10. You look like you're cold. My arms will warm you up.
Also Read>>> Good Comments Ideas on Facebook DP
11. You should probably tie your shoelaces, or you might quickly fall for me!
12. Are you an espresso? Because I like you a latte.
13. Han doesn't want to fly Solo tonight!
14. If I had a star for every time you brightened my world, I'd be holding the entire galaxy in my hands.
15. I need my inhaler because you just took my breath away.
16. I think we had a class together once. Was it chemistry?
17. If I could rearrange the alphabet, I'd put 'U' and 'I' together.
18. Your smile is proof that the best things in life are free.
19. I'm slow to trust but quick to love. I wish too hard, and I give too much. I'm not totally perfect, but I promise I'm worth it!
20. Cuddling is my favorite exercise.
Funny Facebook Introduction About Me
As of 2021, Facebook lets you write introductions about yourself in only a 101 character count. For some, it may be too short, while others find it just about right. Do you want to be the next Facebook influencer? How about building your brand on the most popular social media platform in the world? 
Get them excited about what's to come to your page with funny about me captions. You can give them a short description of yourself or what your page is about. The 101-character count can be tough. But be bold or show a bit of your funny personality or marketing. With the following sample lines, you may just attract the right audience without thinking about what to write! 
1. I am living large and taking charge!
2. Sometimes, it takes me all day to get nothing done.
3. I'm so old. I remember when taking a selfie wasn't even fashionable.
4. Being myself is what got me to where I am.
5. Just call me boss.
6. I like anyone who loves the me in me!
7. I only keep space and energy for the things that are meant for me.
8. Don't make fun of me; make fun with me!
9. I'm not unlucky in love; I'm just extremely good at being single! Add me to learn how.
10. Before you judge, how about you talk to me?
11. I've always loved the idea of not being who people expect me to be.
12. Don't confuse what people say about me with the real me.
13. Thankfully, my favorite things in life don't cost money.
14. Laughing is one of my favorite things to do.
15. I hope the next big trend in music is talent!
16. I'm not lazy; I just run on energy-saving mode!
17. I am here for your entertainment!
18. I believe my vibe attracts my tribe!
19. If you don't like me, but you follow everything I do, darling, you're a fan!
20. Caution: You might get addicted to me.
21. I'm a half princess, half ninja!
Funny Introduction Samples for Instagram
Are you advertising your influencer services on Instagram? The social media platform is the best online space to showcase your engagement talent and gauge your influence on your followers. But to let people know who you are, simply telling them straightforward about your job can be a hit or miss. Writing from scratch can be challenging too!
Unlike funny captions for pictures of yourself, Instagram bio only has a 150 character limit. You can only write so little of what your business, skills, and personality can provide. Get the best sample introduction about myself for Instagram and create the most entertaining yet descriptive introduction about yourself. Some may be a little too long but you can always make your bio longer by learning a few tricks or editing the lines.
1. All this time, I thought I wanted a job. Turns out, I just wanted a paycheck.
2. Even the Joker is jealous of my smile.
3. Extremely passionate about not starving to death.
4. Here to steer clear of my family and friends on Facebook.
5. I desperately need two six-month vacations this year.
6. Sprinkling a bit of magic
7. Life is too short to be updating Instagram bios.
8. Sausage puns are the wurst!
9. So what if I can't sing? I'll sing anyway.
10. Super cali swagilistic hella dopeness!
11. There will be no adulting today and forever!
12. Too rad to be sad.
13. Awesome has 7 letters, and so does meeeeee!
14. Death by chocolate seems like such a tasty way to go.
15. Professional procrastinator.
16. Tacos won't break your heart.
17. Time is valuable. Don't waste it reading my Instagram bio.
18. You're rechecking my Instagram, aren't you?
19. Eat right. Stay in shape.
20. I apologize in advance.
21. Rollin' with the homies
22. Simple but significant
23. Follow me, and I'll follow back
24. All you need is love.
25. I'm one in a melon.
26. Currently saying yes to new adventures.
27. Yup, I'm just another Instagram influencer. 
30. Join me on my next adventure!
31. Seas the day!
32. Midnight snacker 🌝
Funny Ways to Introduce Yourself Online
With more than 100 funny introductions about yourself, you can change your social media bio at any time. You can also use the funny lines to inspire you on how to introduce yourself in several online spaces in the wittiest ways possible! Find the best customers, friends, and even partners when you dig deeper into other fun introductions to make anyone smile while checking out your photos, status, and comments on Facebook.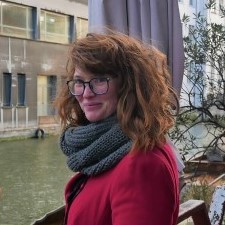 Hi! I'm Babs and I am a content writer. I love how you can choose to reach a big public with social media or limit your interactions to only your closest family and friends.