Top 190+ Funny Comments for Facebook Profile Pictures
Have you ever get stuck just liking and reading comments in a funny post on Facebook? It takes wits and humor to create a comment so epic that people start liking your comment. Admit it. You have galleries and notes filled with lines commented on a photo or screenshots you took from the comment section.
But to create an attention-grabbing and relatable comment, all you have to do is find the best funny comments for Facebook profile pictures. No need to create comment pictures for funny posts to put on Facebook. They take a while. Discover the best comments that will make all your friends laugh out loud or agree with you below!
Funny Comments For Facebook Profile Pictures
Best Facebook Comments for Funny Profile Pics
While you often see the funniest Facebook posts, some of your friends take it up a notch by uploading a hilarious image of themselves or someone else as their profile picture. You can't help but respond with comments to photos in the funniest ways possible.
Though memes or pic comments right now might seem like the perfect option, finding or creating the best ones may take some time. Learn how to comment on a photo on Facebook and use one-liner comments for pics that will make people fall on their chairs laughing.
1. You are a friend that I have to explain to my other friends before they meet you.
2. God knows how many times I have clowned with this one.
3. You're so cool that ice cubes are jealous!
4. Ma!!! They're posting weird photos again!
5. Not even aliens can explain this.
6. Give that man some bacon!
7. Shut up and take my money!
8. I don't even have a picture that can show my reaction.
9. Who came up with this idea?
10. God I want patience, and I want it now!
11. Best. Selfie. Ever.
12. A Selfie a day keeps the friends away.
13. I have to admit that knowing you makes me more religious. I pray every time I see you post another one of your embarrassing and hilarious profile pictures.
14. Money doesn't guarantee me happiness. But your profile picture does.
15. I'd rather check your Facebook than face my checkbook.
16. I want to make my name on Facebook 'Nobody.' So when I see your new hilarious profile picture post, I can like it, and it will say 'Nobody Likes This.'
17. I'm wondering why logging onto Facebook has become a part of the everyday routine?… Then, I saw your new profile picture.
18. Adding you as my friend also means I have more reasons to laugh and be happy on Facebook.
19. If you send me a friend request on Facebook and this is your profile picture, I will pretend I don't know you.
20. Want to make money from Facebook? Go at the settings, click deactivation, and then go to work and stop posting ridiculous profile pictures.
21. Oh, that's nasty.
22. This post need investigation.
23. Your pillow could be my hairstylist because you wake up to weird hairstyles.
24. You are a smart person but just do the most ridiculous things.
25. Who needs TV drama? We got your Facebook profile pictures.
26. If Facebook has taught me anything, it is that some photos are not quite ready for social media.
27. Here's to another year of binge eating, Netflix marathons, and never ending weekly profile pictures of yours on my newsfeed.
28. If I don't log into Facebook in two days, I could have missed your profile picture update.
29. Facebook needs three buttons: Like, Love, and Facepalm.
30. Santa saw your Facebook posts. He's giving you a big frame for your profile photo.
31. My Facebook friends are like pen collections. I have thousands but your profile picture updates are my favorite.
32. You are my precious fool.
33.You're wow. Just wow.
34. I know you're weird. But, still, I choose you.
35. My brother, what a strange creature.
36. I will tell mom what you did there!
37. You tried funny edits this time?
38. I know this is none of my business, but I'm just here for the comments.
40. Your Facebook profile picture updates are like a movie, and I just need some popcorn.
41. You are the reason I look down at my phone and smile. Then walk into a pole.
42. People say nothing is impossible, but this photo says otherwise.
43. You never let your best friends get lonely. Keep them smiling with your updates.
44. Your profile picture updates are one of the reasons why I got bags under my eyes.
45. I have 99 problems, but your profile pictures cure them all.
46. Your profile updates and strong Wi-Fi are what I only need in my life.
47. This picture needs to be an illustration of the word fun in the dictionary.
48. My life would be boring without your hilarious profile photo updates.
49. With your profile photos, I forget all my problems.
50. I'm glad you're just as weird as I am.
51. Making this picture my phone background now.
52. Probably going to steal that sweatshirt later.
53. You are a great example for others.
54. Getting better all the time.
55. How extraordinary!
56. I'm speechless with this one.
57. If there is a list for my source of joy, you are number 1.
58. You posted this pic, and my jaw dropped to the floor.
59. Looking like a Rockstar, literally.
60. My keyboard is short of letters to define this picture.
61. You are a glorious mess that keeps me smiling all the time.
62. I'd give a 1000 likes for your photo!
63. Your photo is blasting on Facebook.
64. This one's a million-dollar picture.
65. This picture is beyond epic!
66. Mind-blowing!
67. That moment when you cannot figure out what to comment because you can't find the right words to say.
68. I cannot go by without having a laugh at your silly picture.
69. It's so funny. I can't help but stare.
70. I don't think I have the right words to portray this picture.
71. No words to say right now.
72. You are breaking the internet.
73. I love this picture a lot more than French fries.
74. Your photos are the only reason for my LOLs.
75. You had to post this to make me laugh. You're a genius.
Funny FB Comments on Friends Photo with other People
Some friends love to do ridiculous things with their colleagues, friends, and classmates. With the perfect event and maybe some dose of alcoholic drinks, you capture the most comical Facebook profile funny pictures.
While some hide these memories in their history, others are brave enough to use them as profile pictures. As friends witnessing this, you can't help but do a quick facepalm and join in on the fun by commenting on photos or use memes. But with the following suggestions, you do not have to spend some time designing those photos with comments.
1. Good friends don't let you do stupid things alone. 
2. Oh. I know what you mean.
3. Friends buy you food. Best friends eat your food.
4. We are best friends. Always remember that if you fall, I will pick you up after I finish laughing.
5. Looks like we'll be the old ladies causing trouble in the nursing home.
6. Every tall friend needs a short best friend. 
7. We've been friends for years. Of course, I knew you were up to something. 
8. Bikini season is right around the corner. Unfortunately, so is the pizza place. 
9. Drunk people, children, and leggings: They don't lie. And neither does this picture!
10. Why does life keep teaching me lessons I have no desire to learn?
11. Long time ago I used to have a life until someone told me to create a Facebook account.
12. Let me welcome you to my friend's Facebook account, where they combine foolishness and comedy in one profile picture.
13. New look, same mistakes.
14. Some people just need some extra explaining.
15. That's a brilliant profile picture, someone give my friend a medal.
16. Phew! Thankfully, it's just a remake.
17. Facebook is asking, 'What's on your mind?' but I think 'What did you drink last night?' is a better question.
18. Alcohol! Because no great story started with someone eating a salad.
19. Alcohol doesn't solve any problem, but neither does too much food.
20. Whoa! Take it easy on the profile photos!
21. By the power vested in me by Facebook, I now pronounce your profile picture the best one among our crazy friends.
22. I should be proud to have a brother like you.
23. Confused. Do we look perfect as brothers or as friends?
24. Feeling Bro-mantic.
25. Happiness means having friends with the same craziness as yours.
26. Friends knock on the door, best friends walk into your house and start eating and this is how it looks like.
27. We go together like hot sauce and everything.
28. Friends who both slay together, stay together.
29. No one will absolutely be entertained by us as us.
30. Best friends don't let their peers do silly things alone.
31. We go together like burgers and fries, which, by the way, we should go get right now.
32. You are a joy to be around.
Funny Posts for Facebook Throwback Profile Pictures
Ever since #TBT or #ThrowbackThursday became popular, everyone started posting their memorable photos and videos on Facebook. We like to take our stunts up a notch and try out ideas freely when we were younger. When these types of photos get posted on Facebook, expect funny comments on friends photos.
After a few snaps from our friends' cameras, these memories live forever in our social media as photo comments for statuses. However, some of our friends try to remind us of the ridiculous moments back in the day by uploading clips and photos as their profile pictures. Discover the perfect photo comment to remind you of those good old days.
Also Read >>> Facebook Funny Post that Everyone Will Like
1. I can ugly-laugh all day with this one around and they won't find it annoying.
2. What in Tarnation?
3. Should I laugh or something?
4. I think we're done for today.
5. Impressed but not surprised.
6. You know the friendship is real when she helps you clean after a night of drinking and passing out.
7. We've been friends for so long that I can't remember which one of us is the bad influence.
8. So you've been the coolest kid since day one? I knew it. 
9. I don't know what's tighter, our jeans or our friendship.
10. Real friendship is when your friend comes over to your house and then you both just take a nap.
11. The best memories come from bad ideas done with best friends.
12. I think we'll be friends forever because we're too lazy to find new friends.
13. As my friend, just know that I will mind both my business and yours.
14. I know I left my sanity around here somewhere.
15. Don't worry if plan A fails, there are 25 more letters in the alphabet.
16. You have came over to the dark side.
17. Need something cool to say because you just slipped and fell? "Yep, gravity still works!"
18. You and I are perfect for each other, but your new profile pictures reminds how crazy we can be.
19. I won't block you or delete you. I'm keeping you there so I can have fun while I see your new funny photos.
20. Cool Story, Bro.
21. Stop reposting old photos again!
22. Hey! That's my shirt!
23. Thanks, bro, you make me look younger on this one.
24. Having a bro like you is a completely different experience.
25. Thanks to my brother, I don't feel so bad about the things I've done back in the day anymore.
26. The only thing that my brother does better is to disturb me with his profile picture antics.
27. My life was all well. When you came, you made every day a memorable experience and this picture shows that.
28. This picture makes me excited about our next adventure.
29. I love that we don't have to act socially acceptable around each other in this photo.
30. Can we please repeat this day we were together?
31. When I talk about friends' goals, this is exactly what I am talking about.
32. Sometimes seeing our group of profile pictures is the only therapy I need.
33. You've earned my respect.
34. Hey! It's my shirt that you promised to return soon.
Heartwarming Comments for Friends Photos
On Facebook, you can find friends uploading photos or video clips of them accomplishing a challenging feat. For these profile pictures, you have to be a sport and be a supportive friend. But being the ultimate best friend does not mean you are not allowed to leave any comments on pics with a hint of wittiness to cheer them up or praise their accomplishments. 
Don't Miss >>> Inspiring Picture Comments on Facebook Profile
1. Sometimes I wonder what could have become of me if I never met you. 
2. Forgive me, but I think it is illegal to look this beautiful. 
3. Wow! You are the hotspot of beauty and sexy curves. 
4. If you like this person, raise your hands. If not, then raise your standards.
5. You were born to stand out.
6. WARNING: You may fall in love with this face.
7. Wherever you go, you leave sparkles.
8. Trouble never looked so absolutely fine.
9. Being this fabulous is your full-time job.
10. Beware: My friend may just be the most awesome person you'll ever meet.
11. Born to express, not to impress.
12. This one Needs a Standing Ovation.
13. I might as well call you Google because you have everything that I am looking for.
14. Salute to your awesomeness.
15. Get ready to be in prison for stealing my heart and hijacking my feelings.
16. Selfie king of the world!
17. Mind blowing picture!
18. Teach me how to take selfie like you.
19. Beauty is just a word, you justify better.
20. Stop being so perfect.
21. Ok. I'm sorry but I'm pretty sure it's illegal to look this good.
22. What did I just see? You look dashing here!
23. Blinded by your awesomeness.
24. I should be proud to have a sister like you.
25. Sending this selfie to NASA because you're a star.
26. How is it that you can make a phone selfie look like it was taken at a professional photoshoot?
27. You make everything look so fun!
28. Everyone needs to like this picture ASAP. It's the most beautiful thing you will ever see.
29. Never seen a selfie of yours that I don't like.
30. Your selfies are awesome. I wish I could do the same.
31. If there would be an award for being incredible on Facebook, you'll be my number one pick for your remarkable profile pictures.
32. I think you're my soulmate with this one.
33. Can I have this picture framed?
34. I can explain why I love this photo, but it would take forever.
35. Is your name WiFi? Because I'm seeing a connection here.
36. Fancy meeting you here.
37. Hello, 911. I need to report a #lit selfie.
38. You should be banned from wearing this outfit. You're the epitome of a fashionista!
39. Keep hustling!
40. You've outdone yourself, dynamite.
41. Outstanding performance, you are tops.
42. Out of sight! Two thumbs up.
43. This picture just inspires millions.
44. How thoughtful, you have got what it takes to be the best with this photo.
45. You made the difference.
46. Extra special work. You are looking superb in this one.
47. You are on the mark and I support you.
48. Hats off to you!
49. It's hard to translate your beauty into words.
50. You're so captivating; it really should be a crime.
51. Alert: an angel just left heaven!
52. If looking so beautiful was a crime, you would definitely be arrested.
53. If being fine were a crime, you would serve jail term.
54. You would end up killing us with your gorgeousness.
55. You'll end every model's job with this picture.
56. If handsome were a person, it'd definitely be you.
57. I bet this photo gets more than a million likes!
Funny Facebook Photo Comments that are just Perfect
Posting the most memorable funny posts for FB is not a competition but let's face it. You feel a little pride when you post the most popular, heart-warming, or funniest comments among the bunch. It is time to upgrade your Facebook Game, and we got you covered. With our suggested comments above for any funny post on FB, you can easily tweak the texts and make them your own. Nothing beats a good laugh from a witty remark. Instead of a pic comment, use our suggested comments funny enough to spread the happiness to your friend's comment section.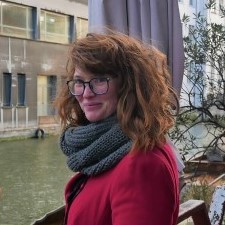 Hi! I'm Babs and I am a content writer. I love how you can choose to reach a big public with social media or limit your interactions to only your closest family and friends.