The Bible is precious with several inspiring verses that are great for sharing with family and friends on social media. A simple bible verse alone can go a long way in enriching the lives of your friends on Facebook, Instagram, WhatsApp, and other social media platforms.

Below we've taken the time to put together an exhaustive list of uplifting Bible verses for Instagram bio with positive affirmations to share with family, friends, and loved ones on social media. So what are you waiting for? Let's check them out so you can start posting! And if you prefer to use bible verses as your Facebook cover, we've got you covered on that one too!
How to use a bible verse for Instagram bio
It is very nice to use inspirational Bible verses for Instagram and we are delighted that you came to check out this article to get some ideas! However, while Bible verses for Instagram captions are allowed to be up to 2200 characters, Instagram bio only offer 150 characters of space. That means your Bible quotes for Instagram bio should be short and powerful.
Should you want to use these Instagram Bible quotes on Facebook, that's entirely possible as well! However, mind that Facebook bios only allow 110 characters, so some of these Instagram bio Bible verses might not fit.
---
the best bible verses for Instagram bio
Inspirational Bible Verses
1. "With God, all things are possible." (Matthew 19:26)
2. "She is clothed in strength and dignity." (Proverbs 31:25)
3. "Because your love is better than life, my lips will glorify you." (Psalms 63:3)
4. "You are fearfully and wonderfully made." (Psalms 139:14)
5. "As for me and my twitter, we will serve the Lord." (a spinoff of Joshua 24:15)
6. "Look to the LORD and his strength; seek his face always." (1 Chronicles 16:11)
7. "Faith can move mountains." (Matthew 17:20)
8. In fact, this is love for God: to keep his commands. And his commands are not burdensome." (1 John 5:3)
9. "Pray continually" (1 Thessalonians 5:17)
10. "For the Spirit, God gave us does not make us timid, but gives us power, love, and self-discipline." (Acts 16:31)
Trending >>> Prayers for a newborn baby
11. "Believe in the Lord Jesus, and you will be saved—you and your household." (2 Timothy 1:7)
12. "Be kind and compassionate to one another, forgiving each other, just as in Christ, God forgave you." (Ephesians 4:32)
13. "Remember those earlier days after you had received the light when you endured in a great conflict full of suffering." (Hebrews 10:32)
14. For I know the plans I have for you, declares the LORD, plans to prosper you and not to harm you, plans to give you hope and a future (Jeremiah 29:11)
15. In him was life, and that life was the light of all mankind. (John 1:4)
Short Meaningful Instagram Bio Bible Passages
16. For God so loved the world that he gave his one and only Son, that whoever believes in him shall not perish but have eternal life. (John 3:16)
17. Do to others as you would have them do to you. (Luke 6:31)
18. "You are the light of the world. A town built on a hill cannot be hidden. (Matthew 5:14)
19. Rejoice in the Lord always. I will say it again: Rejoice! (Philippians 4:4)
20. Trust in the LORD with all your heart and lean not on your own understanding; (Proverbs 3:5)
21. Plans fail for lack of counsel, but with many advisers, they succeed. (Proverbs 15:22)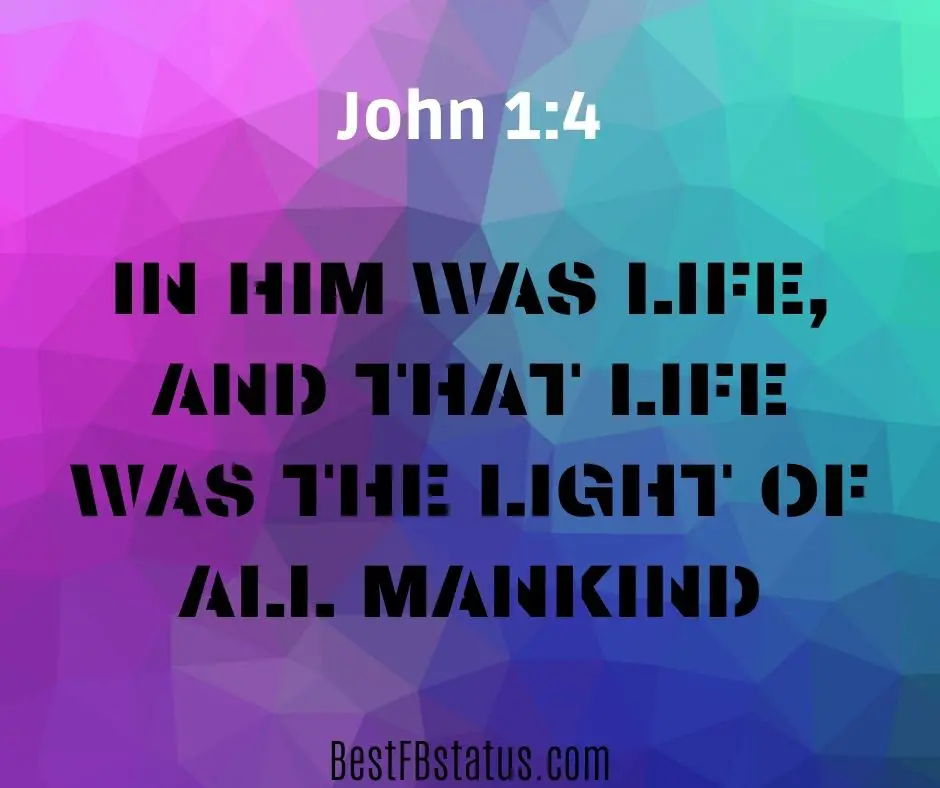 22. The name of the LORD is a fortified tower; the righteous run to it and are safe. (Proverbs 18:10)
23. My Son, if your heart is wise, then my heart will be glad indeed; (Proverbs 23:15)
24. As iron sharpens iron, so one person sharpens another. (Proverbs 27:17)
25. Take delight in the LORD, and he will give you the desires of your heart. (Psalm 37:4)
Also Read >>> Facebook Quotes for Awesome Sunday
26. Your word is a lamp for my feet, a light on my path. (Psalm 119:105)
27. Give thanks to the LORD, for he is good. His love endures forever. (Psalm 136:1)
28. Let everything that has breath praise the LORD. Praise the LORD. (Psalm 150:6)
29. When I am afraid, I put my trust in you. (Psalm 56:3)
30. We love because he first loved us. (1 John 4:19)
Cute bible verses for Instagram bios
31. For my yoke is easy, and my burden is light." (Matthew 11:30)
32. I can do all this through him who gives me strength. (Philippians 4:13)
33. Be joyful in hope, patient in affliction, faithful in prayer. (Romans 12:12)
34. The LORD has done it this very day; let us rejoice today and be glad. (Psalm 118:24)
35. For all have sinned and fall short of the glory of God. (Romans 3:23)
36. So whether you eat or drink or whatever you do, do it all for the glory of God. (1 Corinthians 10:31)
37. "Seek the LORD and his strength; seek His presence continually." (1 Chronicles 16:11)
38. "Be strong, and let your heart take courage, all you who wait for the LORD!" (Psalm 31:24)
39. "Now faith is confidence in what we hope for and assurance about what we do not see." (Hebrews 11:1)
40. "The name of the LORD is a strong tower; the righteous man runs into it and is safe." (Proverbs 18:10)
41. "Do everything without grumbling or arguing." (Philippians 2:14)
42. "True beauty begins inside." (1 Peter 3:4)
43. "I have set the LORD always before me; because he is at my right hand, I shall not be shaken." (Psalm 16:8)
44. "The LORD of hosts is with us; the God of Jacob is our fortress." (Psalm 46:7)
45. "He only is my rock and my salvation, my fortress; I shall not be shaken." (Psalm 62:6)
46. "Love never gives up, never loses faith, is always hopeful, and endures through every circumstance." (1 Corinthians 13:7)
47. You are my hiding place and my shield; I hope in your word. Depart from me, you evildoers, that I may keep the commandments of my God (Psalm 119:114)
48. "This is my comfort in my affliction that your promise gives me life." (Palm 119:50)
49. "In my distress, I called to the LORD, and he answered me." (Psalm 120:1)
50. "Set your minds on things above, not on earthly things." (Colossians 3:2)
Final thoughts
These quotes make excellent Bible verses for bio on Instagram on various occasions. They are altogether uplifting, inspiring, comforting, healing, reassuring, peace-giving, and helpful for the reader in many ways. You can go on to share these amazing verses in your bio and see how much it goes to inspire your friends. Good Luck!