How to Write a First Message to a Girl on Facebook
How to Write a First Message to Send a Girl on Facebook
As we all know, Facebook is the most used social networking website and billions of people all across the world use it and these days, a lot of fake accounts are created by people living a fake life.
In that regard, if you find a girl that caught your attention and you want to send her a first message, before messaging the girl, you should first go through the person's profile and posts to verify if truly she is a girl or you know what I mean. As it is at present, there are lots of girls with over 2,000 friends and followers and you know an average person has less than 500 friends. The reality is that only about 15% of users have more than 500 friends on their list if you see a girl with more than that, it gives you some insights to kind of account owned by the person.
Before I list some of the first messages you can send to a girl on Facebook, I would love you to take note of something that you need to do that would foster conversation and make a girl reply your messages.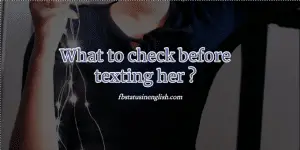 Check through the girl's profile before speaking to her and take interest in knowing her through her posts, her age likes kind of places she visits, places she visited and groups. With that, you can know little about her in order for you to be able to know what she would be interested in discussing with you; her likes and dislikes in fact how she is. For example, if you figure out that she checks in different laces often, traveling or exploring might interest her. So, your first message to her can be about her travels, things she would love to share about her interest during the travels and so on.
Ensure you don't keep on texting her consecutively without her relying on, the text ratio between the girl and you should be at par i.e. of ratio 1 to 1. In order words, let there be time space. Send messages to her mostly when she is online; avoid dropping them in her inbox when she's offline.
You can be prepared to check how active she is online, find out things you like from some of her recent posts. You don't have to keep texting her everything you have read of her from the time you checked her posts, just keep those information handy so you can talk about it when you should actually do in order not to be seen as a stalker.
Let a little pride in you come to play- wait for a response after you have texted her, it could give her some space and allow you a better chance of getting close if she is interested in you. If she talks in one word or she does not respond at all because she isn't into you, don't get angry or confused, just move on, there are other girls.
Make sure you don't start taking some personal or clinching questions, always to be cool both in response and messages. For instance, you shouldn't ask '' what her relationships with her family look like or has she ever had sex before'' because she might see you like a beast, as in the beginning, you are not the plan is to be a friend and not a boyfriend, so stick to the plan. Alternatively, ask any recent good thing that happened to her she would love to share.
In a genuine way- simple and classy, try to compliment a lady, ensure you don't use words like ''sexy, hot'' because it totally turns off ladies from responding to a guy. And always ensure your grammar is perfectly in place.
Always be in a good mood when sending her message to avoid transferring aggressions or emotions to her. It makes her safe and comfortable relying on your chats. You can also try to be dramatic and funny too, trust me she would always make sure she replies to your messages because people like to befriend those who put smiles on their face.
So what is a good first message to send a girl on Facebook?, what is the first message to a girl on Facebook?, what should be the first message to unknown girl on Facebook?, what message to send to a girl for the first time on Facebook?
Research as it that, "an average girl receives about 10 Hi or Hello messages from guys" so, why would you think she should be interested in chatting with you in particular when there are several messages not attended to. If you don't want to fail like other guys, there is a need for you to stand out of the crowd in order to grab her attention. Now, I'm going to show you how to initiate a conversation with a girl which would be successful, so read on!
First Message to a Girl on Facebook Examples
You can text "hi" then write what made you send a friend request to her which could be beyond the looks but rather her post, an image or comment.
Hey pretty, I'm I allowed saying "Hello"
You can start by being natural; Hi Tracy! This is Albert, the guy you met at the movies today, here is my contact. Do have a lovely day ahead.
Hello gorgeous, there's no doubt that you are beautiful but would you like to share with me the other things you do?
Hey miss elegant, I'm sorry to disturb you, I just couldn't stop myself from messaging you after I read your posts today.
I noticed your profile just flashed on my screen while surfing the news feed and I just couldn't resist checking out the beauty I saw… so don't you mind me saying "Hi to a beautiful queen"
Hi, charming! I know you are busy but I would love to know what drives you to do the extraordinary things I saw on your wall.
Hey patty, this is lucky. I just personally leave an appreciation note in your inbox after reading your write-up's today. You are an amazing writer; I simply loved everything about it starting from the way the words were minced. I also write I think we could do some great stuff together, you can also check my blog. Here is the link.
Hi, do you remember me? I'm that young intelligent guy that answered the same way for those creativity quiz questions on victor's wall. It's really rare to find someone whom we both operate on the same wavelength on this space and I'm amazed to find out how similar we are.
Guess you must be relieved to have finally found me after a lot of searches on different accounts. Anyways, it because of people like you my account is made public for many to view my wall (add a smiley).
I'm capable of creating interesting conversations with anyone if you don't mind; I would like to put a pretty smile on your face. Anyways I hope your beautiful face looks more than good to your person!
So today while writing my initial message I was pulled over by a cop and he almost fined me that it's dangerous texting on the road but then, he demanded I show him what was on my hone and he saw your pretty face on the app. I was saved by your pretty face and he warned me to better get your contact that you are my savior (add a smiley).
Hi, (input her name), I'm (input your name), a friend of (input your friend's name). We met at (input where you met) on (input the date you met). It nice seeing you on this platform after a very long time.
Hello miss, I'm sorry to invade your space but I could not just stop it, after reading your post that (name of the person) shared on her wall. How I wished I had been reading your posts then, so I would not have landed myself into the mess I'm into now.
You can send ''hi'' to a lady on the first day and if she doesn't reply, you leave her and come maybe a week later but not the consecutive day and if she stills doesn't reply, you can send this, '' can I please have a word with the most busy person in the universe for just a minute'' .
Trust me, this would make her look into your direction and she would feel guilty for not replying you. So with that, you can start u interesting conversations. Do not ask her questions in the way that she feels being interrogated by a stranger; you can add humor to the conversation.
With the above words, I'm pretty sure you have learned how to initiate conversations and gotten lists of first messages you can send a girl which is mostly an introduction. For you to gain her attention, do not stop talking to her as you know relationship without words could lead to break up. So talk on but don't choke her. Until she particularly seeks interest in knowing you, don't bore her with your talks about your interest and yourself, talk about her.
In conclusion, we all know Facebook is a social site, so if a girl finds you irritating by the way you approach her; she is likely to get you blocked. If you don't want that, you can adopt this real and modern way of chatting with a girl for the first time on Facebook.